3-Mercaptopropionic acid (3MPA) CAS: 107-96-0
Chemical Name: 3-Mercaptopropionic acid
Synonyms: 3-MPA; 3-mercaptopropionic;
CAS No.: 107-96-0
Molecular formula: C3H6O2S
Assay:99%
Production capacity: 3000Mt/Year or according requirements.

Structural Formula: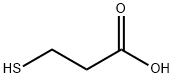 product description
3-Mercaptopropionic acid More Details:
Specification:
| | |
| --- | --- |
| Item | Specifications |
| Appearance | Colorless or light yellow transparent liquid |
| Activity | >99.0% |
| Chroma | <20 |
| Density (20℃) | 1.13-1.30 |
3-Mercaptopropionic acid Usage:
l Construction field: Retarding polyester water reducing agent PCA and polyetherwater reducing agent PCE.
l Pharmaceutical field: 3-Mercaptopropionic acid is the intermediate ofPharmaceutical Chlormezanone and also used as stabilizer of PVC.
Like thioglycolic acid, it can be used in transparent products with excellent thermal stability and superior to other stabilizers.
l It is also used as antioxidant, catalyst and biochemical reagent.
3-Mercaptopropionic acid Packaging and Shipping:
Package:250kg/drum;1250kg/IBC drum or as per buyer requirementShipping:UN 2922 8/PG 2
3-Mercaptopropionic acid Storage:
Stored in a dry and ventilated warehouse; keep away from sunshine; avoid fire; avoid moisture.