2-Benzothiazolamine CAS No:136-95-8
Chemical Name: 2-Benzothiazolamine 99%
Synonyms:2-Aminobenzthiazole;2-Iminobenzothiazoline;o-Aminobenzothiazole;u-Aminoben-zothiazole
CAS No.:136-95-8
Production capacity:500MT/Year
Molecular formula: C7H6N2S
Assay:99% or according requirements.

Structural Formula: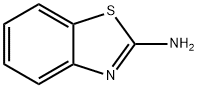 product description
2-Benzothiazolamine More Details:
Specifications:
| | |
| --- | --- |
| Item | Specifications |
| Appearance | Gray to light brown powder |
| Assay (HPLC) | ≥99.0% |
| Melting point | ≥127℃ |
| Water | ≤1.0% |
2-Benzothiazolamine Usage:
A dye intermediate. The melting point is 129 ~ 130 ℃. It is soluble in ethanol, ether and chloroform. It is insoluble in water.
When there are substituents at 4-or 6-position, the dye can produce dark color effect. It can be prepared by dehydrogenation
and cyclization of phenylthiourea and sulfur chloride in anhydrous chloroform or chlorobenzene. It is used to prepare azo disperse dyes and heterocyclic cationic dyes.
2-Benzothiazolamine Packaging and Shipping:
Package:25kg/drum or as per buyer requirement Shipping as common product.
2-Benzothiazolamine Storage:
Stored in a dry and ventilated warehouse; keep away from sunshine; avoid fire; avoid moisture.