Things You Need to Know about Menthol
Jun. 19, 2021
According to the 1997 issue of the Journal of Gastroenterology and the 1984 issue of the British Journal of Clinical Practice, taking peppermint oil capsules containing menthol was effective in treating pain caused by intestinal cramps in a double-blind clinical trial.
A 1994 study published in Cephalalgia found that applying peppermint oil to the forehead or temples relieving tension headaches, and a 2007 double-blind clinical trial published in the journal Digestive and Liver Diseases showed that the menthol in peppermint oil effectively treated the symptoms of irritable bowel syndrome. The University of Maryland Medical Center notes that another double-blind trial, reported in Digestion in 2004, found that herbs containing menthol helped treat indigestion. Next, the menthol supplier will share the following content with you.
What is Menthol?
Uses of Menthol
Functions of Menthol
Dosage of Menthol
What is Menthol?
Often derived from the herbs menthol, eucalyptus, and pennyroyal, menthol is a compound made from the volatile oil of the herb that has many potential health benefits. Topical or oral use of menthol has been shown to help treat gastrointestinal problems, pain, inflammation, and congestion. Consult your healthcare provider before using menthol on your skin or taking menthol internally to treat any condition.
Uses of Menthol
Menthol has been used to help treat a variety of gastrointestinal disorders. For example, the University of Michigan Health System says menthol can prevent or treat flatulence and bloating, making it a potential adjunctive treatment for irritable bowel syndrome, indigestion, and colic. Menthol can also be applied topically to help relieve itching and inflammation caused by contact dermatitis and urticaria.
Topical menthol can also help relieve headaches, according to the University of Maryland Medical Center. In addition, people take menthol orally to treat asthma, bronchitis, colds, flu, and other respiratory conditions. However, there is no widely accepted, conclusive scientific evidence to support the use of menthol for the treatment of any disease.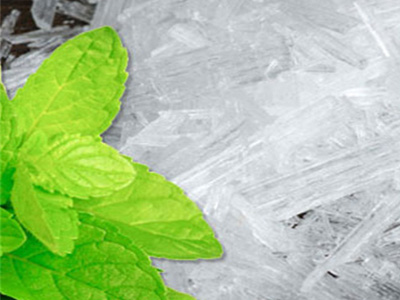 Menthol
Functions of Menthol
Menthol acts as a wind repellent, which means that it can prevent and treat gas in the intestinal tract. Menthol also relaxes the intestinal muscles and prevents cramping. In addition, the University of Pittsburgh Medical Center states that menthol has pain-relieving and anti-inflammatory properties.
The potential use of menthol in the treatment of respiratory diseases stems from its ability to dilate the fine bronchi, according to Memorial Sloan-Kettering Cancer Center. Menthol's use in the treatment of colds, flu, and bronchitis is also associated with its expectorant effects, including dilution and relief of mucus congestion.
Dosage of Menthol
You can use extracted menthol or take it as a mixture of menthol, eucalyptus, or pennyroyal. Pure menthol for pain and inflammation is applied topically as a cream, ointment or skin patch, according to the University of Pittsburgh Medical Center. You can also apply peppermint, eucalyptus oil, or spearmint oil to the affected skin area for analgesic and anti-inflammatory effects. The University of Maryland Medical Center states that to achieve the desired effect, any herbal cream or ointment should contain 1% to 16% menthol.
To treat gastrointestinal disorders, you can take menthol in the form of peppermint tea, capsules, or tinctures. To make a tea, steep 1 teaspoon of dried peppermint leaves in 1 cup of boiling water for 10 minutes, then drink three to four cups a day, according to the University of Michigan Health System. Before using, consult your doctor about the proper application and dosage of menthol or herbs containing menthol.
Find a Reliable Menthol Supplier
As an ISO 9001 qualified company, we are mainly specialized in producing high quality but low price Pharmaceutical intermediates, APIs, synthetic intermediates, as well as some materials in dyes industries, almost half of the goods are for export.
Additionally, we provide the OEM (customize) manufactures for intermediates, if you can't find materials from the world, just tell us, we will research and produce in our high-tech equipped laboratory. We are dedicated to satisfying our customers with our products and services. To mutual cooperation, to win-win benefit! If you want to get more information about the high quality menthol for sale, welcome to contact us.